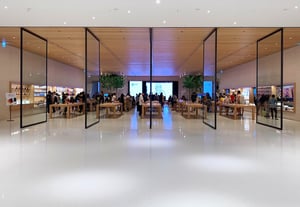 Even people who know a lot about flooring can easily be misled by half truths about epoxy. If you're considering new flooring or a flooring makeover for your commercial business, it's important to be properly informed.
That's why we're tackling some commonly believed myths about epoxy floor coatings. By the end of this article, you'll be in a better position to make the best flooring decisions for your facility.
Epoxy covers just like paint
When people think about coating a floor, one of the first methods they'll consider is applying a coat of paint. We'll be frank — Painting a floor, especially an industrial floor, is not a good idea. The paint may look nice initially, but it will chip quickly, and it's certainly no comparison to epoxy from a durability standpoint.
Epoxy is only for drab industrial floors
The thing that makes paint seem so appealing as a flooring solution is that paint can be applied in a variety of colors. What if you want a red floor or a turquoise floor? Or perhaps, a red and turquoise floor! Obviously, you can paint a floor these colors, and you'll have dozens of shades to choose from within each color family.
However, many people don't realize that you can also have a colorful epoxy floor. Epoxy floors are often used in industrial facilities because they are so durable, but they don't have to be as drab as they typically appear in most industrial settings. Epoxy can be applied in a variety of colors and textures. Ask us about it!
Epoxy is slippery
Epoxy goes on smooth, and once it has cured, it often takes on a shiny or glossy appearance. However, despite its shine, epoxy by itself, is not slippery, which is why it's so frequently used in industrial work environments like warehouses, horse stables, factories, and other facilities. If you anticipate your floors getting wet or oily, we can offer non-skid additives to increase slip resistance.
Epoxy is overpriced
Because epoxy lasts so long, it actually ends up paying for itself. Sure, you can choose a cheaper floor coating than epoxy, but you'll need to replace it much sooner than you would an epoxy floor. So, the question is, do you want to budget a little more money for a floor every 10-15 years, or do you want to invest smaller amounts of money into a floor more frequently?
Contact us today to discuss flooring options for your industrial or other commercial facility. We'll set up a consultation and provide you with a price quote before starting any work. For years, we've provided epoxy as a flooring solution, and we're proud to continue doing so in order to help our customers achieve durable flooring for their businesses.