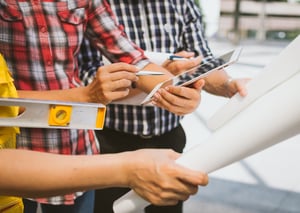 Don't you hate it when you don't have all of the facts? What's even worse is when you ask a question to get the facts, and then you get a roundabout answer that doesn't really answer the question.
We hate that, too — which is why we always try to be direct with our customers at CPC Floor Coatings. We want you to not only have accurate information, but also complete information. That's why we're sharing four facts that are often withheld from customers on the hunt for floor coatings.
"There's no such thing as a perfect floor."
If your flooring contractor is telling you anything different, beware. We've been in this industry since the 80s, and minor imperfections show up on most jobs. We follow best practices on all of our flooring processes, and we use the highest quality equipment available to install industrial floor coatings. Still, there are no perfect floors.
The imperfections are minimal, though. You'd be hard-pressed to notice them in a photograph. If you feel your floor needs a touchup, we are happy to provide that service. However, touching up a floor is not the same as touching up paint. You'll still be able to see the flaws even after the touch-up job.
"Certifications matter."
CPC Floor Coatings is ICRI Certified because we want to be equipped to provide the very best service to our customers. Being ICRI Certified is not a requirement in order to be a specialty contractor, but it does give flooring companies access to a network of other industry professionals that they can use as a resource. ICRI members can also take advantage of various learning opportunities (again, another opportunity to better serve our customers).
In case you're not already familiar with ICRI, it is the International Concrete Repair Institute. This association is made up of local chapters and members who are committed to "prolonging the useful life of concrete through quality repair, restoration, and protection."
"We're not the right fit."
It's hard for a subcontractor to turn business down. However, the way we look at it is, if we're not the right fit for your project, and we take it on anyway, then it's a lose-lose for both parties. We'd prefer to only do the projects that we're confident we can do well and deliver exactly what, how, and when the customer wants.
How do we determine if we're the right fit for a customer and their project? We conduct a one-on-one consultation. During this meeting we assess the project and seek to understand the client's expectations. We'll ask about the project deadline and use other details to determine if we're the right subcontractor for the job. In the end, everybody wins.
"Industrial floors don't last forever."
While industrial flooring is certainly durable, don't let anybody tell you it's going to last forever. No floor is truly indestructible for the rest of time.
Decades, though? Now we're talking. An industrial floor coating that's been properly selected and prepared for its surface can be expected to last for 10+ years.
What else do you want to know?
Now that we've told you all of the things other subcontractors won't, it's your turn to ask the questions. Tell us what else you want to know about industrial floor coatings, and we'll be happy to help.