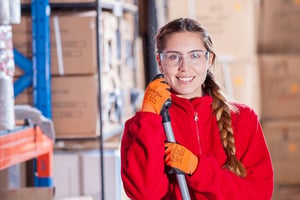 Once you've decided on the right floor coating solution for your facility and have it professionally applied, you'll want to keep it in top shape for a long time to come. Whether you've chosen to go with polished concrete, an epoxy or urethane coating, or a specialized solution, a little precaution will go a long way in extending the longevity of your floors and keeping them looking their best.
Here are five ways to protect your flooring investment:
Clean up spills right away
Even with floor coatings that are highly resistant to spills, you don't want liquids settling on top of your floors for an extended amount of time. Keep your floor coating working at its best and avoid discoloration by cleaning up spills as soon as they happen.


Use proper cleaning equipment
One of the most crucial mistakes that many facility owners make is to use the wrong cleaning equipment on their new floors. For example, hard bristle brooms can actually dull your new floor coating. You may even want to replace traditional mops with commercial-grade automatic scrubbers to keep your floors shiny and to save on labor. Talk to the professional installing your floor coatings to find out what the best method is for cleaning your floor.


Keep an eye on your equipment and equipment use
Make sure that the physical equipment that sits on top of your new floors isn't causing damage to the coating. Use padding as appropriate, and ensure that wheels on moving equipment aren't causing scratches or abrasions to the floor. Also, make sure equipment operators are aware of the damage that can be caused to your floors by dragging materials or material handling units.


Wax appropriately
In some conditions, you can enhance the life and look of your brand-new epoxy or urethane coated floor by applying a coat of wax—especially if it's part of a high-traffic walk area. Waxing not only improves the aesthetics of your floors, but it keeps them cleaner and minimizes scratches and other damage. (Whether your floor is compatible with a wax protectant will need to be determined on a case-by-case basis.)


Avoid the wrong cleaning agents
Be aware that some cleaners contain compounds that etch or stain floor coatings including epoxy and urethane. Always take the extra minute to check the contents of cleaning products before treating your new floor.
If you have questions about your new floor coating or would like to discuss the best options for your industrial or commercial facility, call the experts at CPC Floor Coatings. We have more than 40 years of experience in the industry and will be happy to help you find the solution that will give you the best value for your organization's unique needs. Give us a call at (864) 855-0600 or contact us to schedule a consultation.