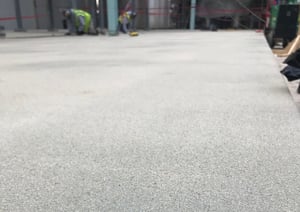 Urethane cement creates a durable and professional commercial flooring solution that lasts for decades.
If you're looking to improve or replace your traditional concrete flooring with a tough, chemical-resistant alternative, here's what you need to know about urethane cement.
What is urethane cement?
Urethane consists of a binder and filler blend, also referred to as polymer concrete. Urethane cement is used in floor coating systems and can tolerate high moisture, temperature extremes, and chemical exposure. This type of coating is popular in the food and beverage industries as well as in the pharmaceutical, industrial, and healthcare environments. For the demanding service conditions in these and other industries, urethane cement is an increasingly popular option.
What are the benefits of urethane cement?
As a mix of urethane and concrete, urethane cement makes one of the best industrial flooring materials on the market. Its benefits include:
Resistance to chemicals. Harsh chemicals, especially acids, can destroy even the hardest industrial floors. However, urethane cement coating systems are resistant to chemicals and will not corrode easily. Acids with pH 4 to 7 and bases with pH 7 to 10 are standard environmental conditions for UC coatings.
Ability to withstand extreme temperatures. Facilities which include freezers, coolers, restaurant kitchens, or high-temperature chemical manufacturing rooms can see floors start to crack after prolonged exposure to heat or cold. Urethane cement has a much higher thermal resistance than other flooring. In fact, service temperature ranges from -100° F to 220° F.
Easy installation. Fast cure times, as well as its ability to be applied directly to concrete as a stand-alone system without a primer or topcoat make this product one of the easiest floor coatings to install. It can be self-leveled, roller applied, or trowel applied.
Microbial/bacterial resistance. For food/beverage and healthcare industries, flooring that does not support microbial or bacterial growth is essential. The sleek finish of urethane cement is also very easy to clean.
Surface strength. As one of the most durable floor coating systems on the market, urethane cement can accommodate for regular machinery, such as forklifts. It is also highly abrasion and impact resistant.
Attractive design. Flooring must meet decorative and appearance standards to be used in many businesses. It can be used in combination with pigmented topcoats, primers, functional additives, and decorative broadcast media according to the design needs in any industry.
Why choose urethane cement over regular cement?
Urethane cement is used in many professions because of its extreme durability, wide variety of applications, and a quick to return to service cure time.