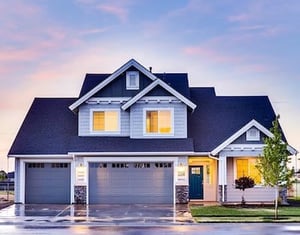 Typically, a garage's design is not a homeowner's top priority. Even lower down the priority list is the garage floor. But installing the right kind of residential garage floor coating comes with many benefits.
Epoxy is an excellent floor coating option and the the one we recommend for residential garage floors. Here's why:
Epoxy is colorful and versatile
One of the first things people will notice about your garage floor is the color. Of course, over time, things like durability absolutely matter, but when it comes to first impressions, color is what counts.
Epoxy floor coatings are available in various attractive colors. You can choose a solid color coating or a multi-color coating such as a confetti design (one that's quickly growing in popularity!).
The interesting thing about epoxy floor colors is that they are not painted onto the floor, which means they won't chip. The color is actually in the resin and is combined with the hardener, meaning the color becomes part of the floor for maximum durability.
Additionally, epoxy can be installed with patterns. Unlike solid floor colors, patterns are painted onto the floor, and the designs can either serve a practical function or serve as decoration. For example, instead of hanging a tennis ball from the ceiling, consider having a parking space painted onto the floor. Homeowners who use their garages for other things besides parking their vehicles can likely think of countless functional patterns for the garage floor.
And there's more! Epoxy floor coatings can also be done in a variety of textures. Who knew your garage had so much interior design potential!
Epoxy is durable and impact resistant
Epoxy coating is one of the most durable floor coatings on the market. Not only will it withstand regular foot traffic, but this impact-resistant coating can also hold up to your kids' street hockey games, bike tricks, basketball tournaments and more.
Remember, epoxy is most commonly used for industrial facilities where fork lifts and other heavy machinery are the norm. So regardless of whether you drive a Honda Civic or a Dodge Ram, the floor will handle it just fine.
Epoxy is easy to clean
Homeowners already spend more than enough time cleaning their houses. The last thing they need is a high-maintenance floor in their garage. With epoxy, spills can be easily wiped up because epoxy does not absorb liquids.
When you do spill something on your garage floor, the slip-resistant epoxy coating protects against accidents that could result in injury.
Epoxy is adaptable
Whether your garage floor happens to be concrete, vinyl, tile, or metal, you can cover it with epoxy. There's no need to install a new floor made of a specific material before treating it with a protective epoxy covering.
The most important thing is that the floor is properly prepared -- a task that's best left to the professionals at CPC Floor Coatings.
How would epoxy look in your garage?
If you'd like to enjoy the benefits of an epoxy floor coating in your residential garage, give us a call at (864) 855-0600 or contact us online to speak with a flooring expert! We want your Southeastern home to carry as much aesthetic appeal as it does long-lasting durability, and it starts with the floor.