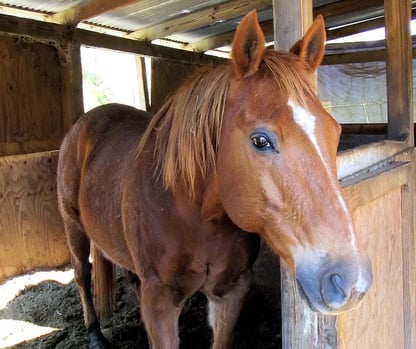 Do you manage an equestrian center or horse boarding facility? Are you about to build a new horse stall or renovate an old one?
One of the most foundational choices you'll need to make for your equestrian facility is the type of flooring your stalls will have. While natural soil and wood planks are traditional choices, they can be difficult to keep clean. Wood in particular may begin to smell of urine over time.
Concrete flooring for horse stalls
If your facility already has a concrete slab, you're in luck—concrete is an inexpensive, durable flooring solution that's easier to clean than many of its alternatives. It resists damage and requires less maintenance than other options.
Texture concerns
Many horse owners worry that concrete is too rough for their horses' hooves, but polish is too slippery. What is the solution? We recommend grinding the concrete smooth, but not to the point of having a shine or sheen. A less aggressive textured surface may be all the owner needs instead of a "broom finished" concrete slab.
Sanitation concerns
While concrete seems completely solid, it's actually a porous material that allows liquids to penetrate. (If you've ever spilled water on untreated concrete, you may remember how it leaves a damp spot even after the surface has been mopped.) When liquids such as horse urine soak into the floors, they can become a harbor for microbes and viruses.
To solve these challenges of concrete flooring in horse stalls, we recommend an epoxy floor coating to seal off the concrete and extend its life.
How epoxy improves concrete flooring
A liquid-applied epoxy coating is applied in two steps, a resin and a curative, which form a strong chemical bond. Benefits of epoxy include the following:
Sanitation - An epoxy floor coating blocks liquids from seeping into the concrete surface. Cleanup is just a matter of mopping the liquids off the surface.
Abrasion resistance - Epoxy coatings protect the concrete beneath from cracks and other damage from impacts and continual pawing.
Slip resistance - To keep horse hooves from slipping on smooth concrete, non-slip aggregate can be added to the epoxy coating for improved grip.
Longevity – Epoxy coatings can last for several years before wearing out, depending on the amount of traffic they are exposed to.
Ultimately, the best flooring option for your equestrian center or horse stable is a combination of concrete and epoxy. The concrete foundation sealed with the epoxy coating will achieve both the durability and the protection you're looking for.

Of course, if you'll be boarding horses in your facility for extended periods of time, you'll want the stalls themselves to also include traditional bedding or rubber mats over the concrete. Providing something soft for them to stand on is important for the comfort and musculoskeletal health of the horses, but the protected concrete underneath will keep the floor strong and sanitary.

Want to learn more? Read our comprehensive overview of epoxy coatings, or explore other floor coating options available to you.