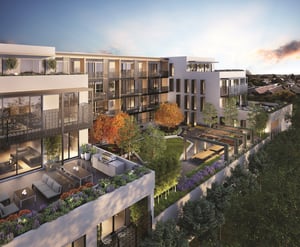 Concrete flooring isn't just for industrial facilities, factories, and home improvement stores. When polished, concrete floors take on a glass-like appearance that not only looks beautiful, but also holds up to things like foot traffic — even high heels and pet claws!
Due to its unique durability and aesthetic appeal, polished concrete flooring just might be the perfect flooring for your apartment complex.
Polishing concrete is key.
It's important to note that, in this blog article, we're not just talking about basic concrete as a slab. We're talking about polished concrete.
Have you ever been in a building or warehouse with an unpolished concrete floor? It develops a layer of dust that not only makes the floor look dirty, but also makes everything around it dirty. Polished concrete changes the game and makes the floor better for living environments like apartment homes.
Where does polished concrete flooring work well?
Polished concrete is a great flooring option, but that doesn't mean it's necessarily right for every area of your apartment community. Let's explore where it would be the ideal flooring solution.
Patios
If you're looking to upgrade the basic concrete slabs that serve as patios for your first-floor residents, concrete polish is an excellent solution.
Community Hallways
Apartment hallways really take a beating. Think of the constant foot traffic from residents and the additional traffic from tenants moving in or out.
A polished concrete floor would hold up to regular foot traffic and function much better than carpet would for with wheeled equipment that's loaded up with furniture and moving boxes.
Apartment Entryways and Dining Areas
If you're already installing polished concrete flooring in the hallways of your apartment buildings, it might make sense to also install it inside certain areas of the apartment homes.
Entryways, for example, could easily be designed with polished concrete. If the apartment's dining area happens to be adjacent to the entryway, the most economical decision might be to install polished concrete in there as well. The great thing about polished concrete is that it's very easy to clean. However, it's important that it really does get cleaned regularly.
If you're concerned that concrete is too heavy for multi-story buildings, don't worry. As long as the building is designed and built with concrete flooring in mind, the structure will be able to support it.
What places should you avoid polished concrete?
Pool Decks
Because polished concrete is a no-slip surface when wet, it may seem like an ideal flooring option for your pool deck. However, there are a few problems this flooring surface could present for swimmers and sunbathers.
Polished concrete becomes very hot in the sun.
Tanning oils and sunscreen will make polished concrete very slick on the surface
The lack of chemical resistance in polished concrete will change its appearance when subjected to pool water, which has a ph that is lower or higher than the neutral 7.
Grilling Areas and Kitchens
Cooking grease will make a polished concrete floor slick. Not only will the oils from your grill or stove absorb into the floor, but so will the smells, and the stain will likely remain.
Bathrooms
Even when polished, concrete floors absorb water and other liquids. Stains will occur, and odors will linger. Need we say more?
For bathrooms, pool decks, and kitchens, consider another type of specialty flooring to provide the durability and protection you're looking for.
Let's talk!
We've barely scratched the surface as far as polished concrete flooring options go. Your apartment community may have other places that would function better with a polished concrete floor such as car washing ports, pet bathing stations, storage facilities, your leasing office... We could go on and on. If these ideas get you excited, we should talk. Contact us to schedule a consultation today!