---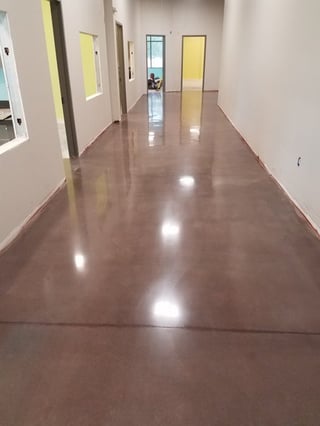 If you're looking for an economical way to upgrade the concrete flooring in your restaurant, hospital, customer lobby or manufacturing plant, you may want to consider getting your floor polished to an attractive shine. Polishing concrete actually increases the floor's hardness, is relatively easy to maintain, and can be enhanced with colors in addition to the glossy texture.
But does the smooth surface of polished concrete make it slippery for you employees or customers? Generally, no. But there are definitely some cases in which you don't want to use it.
Polished concrete is NOT slippery when dry
Though the process of polishing compresses the surface of the concrete by pushing the molecules closer together, the end product is still slightly porous. When kept clean, polished concrete has about as much grip as regular concrete, and provides better foot traction than marble or even some linoleum surfaces.
Polished concrete is (generally) NOT slippery when wet.
A flooring safety test using measurement standards provided by the American National Standards Institute (ANSI) found that polished concrete has superior slip resistance, even when wet. The way that water interacts with the porous surface can even provide a bit of extra grip for one's shoe. (By the same token, though, the porous surface of polished concrete means that water doesn't wipe up as easily, leaving a temporary damp spot.)
However, as with many types of flooring, spilled oils and chemicals can still pose slip hazards and other safety issues. If you're looking for flooring for commercial use or a manufacturing plant that deals with oils or harsh chemicals, you are better off selecting a stronger chemical-resistant floor coating.
Polished concrete IS slippery in dusty conditions
The weakness of polished concrete flooring is that it's exceptionally slippery when exposed to dry powder or fine dust. Powder glides over the surface of the concrete, making it very difficult and even dangerous to walk on.
For this reason, we do not recommend polished concrete in ceramic labs, for example, or manufacturing plants that produce a large amount of sawdust or other powder. Depending on the type of material your facility handles, we might recommend you install a special slip-resistant floor coating instead.
To learn more about the benefits of concrete polishing, check out our concrete polishing overview. If your facility is in the Southeast and you think that polished concrete might be a good choice for your business, we here at CPC Floor Coatings would be happy to guide you through the decision process—give us a call or reach out to us online!
---
---