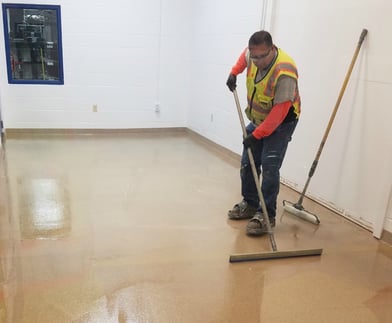 Even if you're an experienced facilities manager, chances are the world of industrial floor coatings is a little foreign to you. You may not know what to expect with the installation process, or you aren't sure which coating will offer the features you need.
That's why it's important to find a professional floor coating contractor who's willing to talk through all aspects of the process with you and will answer whatever questions you may have—before you hire them to work for you.
To help get you on the right track, here are some questions you can ask us or any other industrial floor coating company before deciding if they are the right fit for you:
What are your credentials?
In specialized industries like industrial floor coatings application, there is no excuse for a contracting company to not know what they are doing. Having the proper training not only means a higher-quality job outcome, but it also means far fewer chances of damage to property or even health hazards to workers.
Practical experience is a must, but objective credentials like OSHA certification and being a licensed trade professional indicate a level of expertise that cannot be matched by simply showing up for a job.
All trade professionals should also carry insurance and some form of bonding to protect your business from financial loss in the event that something goes awry.
Can I see your past work?
A company's experience is only as worthwhile as their finished products. When a company states they have 30 years of experience, these claims should be backed up by examples of solid, quality work they have done, along with testimonials and recommendations from current or former clients.
Every good industrial floor coatings company will have a portfolio of past work and a backlog of happy customers so that you can be sure that you will get the kind of service and quality that you deserve.
Which industrial floor coatings do you recommend?
You may go into a project thinking you know exactly what you want, only to find out there is a product out there better-suited for your budget or your worksite conditions.
A good industrial floor coatings company will be able to steer you toward the perfect product for you, based on their experience and industry knowledge.
What will long-term maintenance be like for the product I choose?
Your floor coating investment doesn't end after the coating dries. To make sure that you are getting the service life that you're expecting out of your product, ask about the care and maintenance it will need and when it will require a full-scale replacement.
The answer to this question may help you determine whether the floor coating you have in mind is what you bargained for.
What equipment do you use?
Tasks like floor surface preparation require specialized equipment to get the job done right. Measures like acid etching are only good for small DIY jobs in nearly every instance. Floor grinders, chemical stripper solvents and other professional tools are needed to do a thorough, efficient job.
Expecting a company that shows up with the right equipment for the job is included in the contract price, after all.
What happens if you fall behind schedule or I'm not happy with the work?
Be sure to ask about guarantees, service contracts and over-schedule agreements that essentially put money back into your pocket if you are not getting the value you wanted out of your contract.
The answers to these questions will not only help you decide if you want to work with the industrial floor coatings professional, but also if the product you want is actually the product you need. Learn more about what floor coating application involves and how to get the best product possible by reading about the application process.