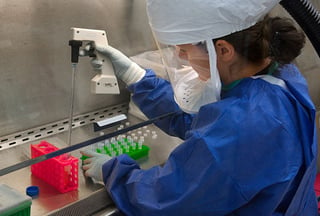 Any industry that deals directly in the health and safety of average citizens faces extra scrutiny when it comes to building and health codes. The pharmaceutical and medical research industries play a massive role in public health, and any violations or issues with Joint Commission Standards have huge consequences. Let's discuss the importance of specialty flooring.
Epoxy Coatings Keep You Covered
If you are looking build or are currently running any facility that operates within the medical or pharmaceutical industry, it's essential that your facility is spotless, starting from the ground — or rather, the floor — up. Liquid applied floor coatings are not only a good choice from a design and style perspective, they're also perfect for specialized industries like pharmaceutical and medical research. Here's why:
Safety
With an epoxy/urethane coating, the environment will be safer right from the beginning. Epoxy/urethane coatings can help to minimize slips and falls (one of the leading causes of workplace injuries, according to OSHA). This not only keeps your employees safer as they go about their day, it helps to minimize the chance of your facility being held liable in case of an incident from customers or patients.
Cleanliness
One of the major concerns of any facility is whether or not the building can be thoroughly cleaned in a timely manner. Epoxy/urethane floor coatings can reduce dust, dirt, and bacteria buildup, making cleanup quicker and reducing the risk of contamination, either of employees, patients, or of important products. The ability to reduce the risk of cross-contamination through easy cleaning is essential.
Cost-Effectiveness
For flooring that is subject to the constant wear and tear involved in moving employees, machinery, and products from place to place, it doesn't always pay to spring for the most expensive floor coatings available. Epoxy/urethane systems in certain situations can work for facilities that are subject to stringent safety requirements without running up overhead or unbudgeted costs. Generally speaking, epoxy involves a quick and easy installation process, which means your facility won't lose out on profits due to extended downtime.
For Health and Safety, Call CPC Floor Coatings
Whether you're opening up a brand new pharmaceutical / medical facility, taken over management of an existing facility, or you're renovating, looking at your current flooring plan is an important part of the process in meeting industry standards and the needs of your facility. At CPC Floor Coatings, we have experience working with clients within these industries and so, let us be a partner with your floor coating options without sacrificing aesthetics or design. Reach us by phone at (864) 855-0600 or contact us online at any time to learn more!