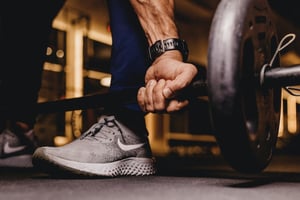 Think of the hard work people put in when they go to the gym and exercise. There's a lot of lifting, pressing, pulling, pushing, and striding that goes into a full-body workout. All that work impacts the body. It may exhaust it temporarily, but eventually, these activities strengthen it. That's why people keep going back to the gym.
Now think of a gym floor. It endures the same activities, but a floor cannot be expected to go through a process of strengthening while it is being used. It must already be strong enough to hold up to the activity placed upon it. Better yet, a good gym floor will not only withstand the toll gym enthusiasts take on it — it will actually support their endeavors.
Epoxy is great for gym floors because it does just that. Don't just take our word for it, though. Let's look at all the things your gym floors experience on a daily basis, and you'll quickly understand why epoxy gym floors are an ideal solution.
Sweat and Spills
We all know people sweat at the gym, and some of that moisture ends up on the floor. But even worse than sweat is the amount of spills that happen on your gym floor. Have you ever seen someone try to chug water while operating an elliptical or running on a treadmill? It's messy to say the least. Then there's that guy who just finished his arm workout who can barely get his protein drink to his lips, much less in his mouth.
In short, spills happen constantly on gym floors. And the biggest problem with these spills isn't that they're big — but rather, that they're so small, they hardly get noticed. That's when slips happen. Someone doing lunges on the floor probably won't see the water that the weightlifter dribbled after his bench press routine, and they could slip and injure themselves a result.
It's important to keep your gym floor safe. Epoxy does this effectively because it is slip resistant. It doesn't absorb moisture from sweat or spills either, so as long as they get wiped up, your gym floors stay sanitary.
An Expectation for Motivation
While it may seem trivial, the appearance of your gym floor really does matter. Your gym attendees spend a lot of time looking at it, after all. With all the pushups, burpees, downward facing dogs, and other exercises they're doing, you can be sure they're noticing your floor, whether consciously or subconsciously.
Colorful flooring is a great way to add life and balance to your gym. Epoxy floors can be installed in a variety of vibrant shades and designs. Use color to energize the space and designs to create zones or establish traffic flows.
Designs on the floor can be utilized as workout aids as well. Someone might use a single line on the floor as a marker to jump back and forth over. Someone else may be practicing their long jump and gauge their distance by markings on the floor. Yogis frequently choose objects on the floor to focus on for balance. The reasons to incorporate designs into your epoxy gym floor are endless.
With a little planning, your epoxy floor will not only motivate your gym squad, but it will also help them work out more intuitively and efficiently.
Working on a Budget
Are typical sports floors out of the budget for your gym? Consider looking into an economical epoxy floor. Contact the team at CPC to discuss flooring solutions for your gym.