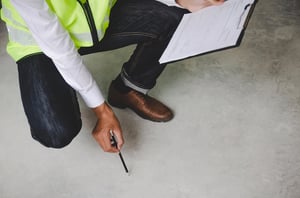 People always want to compare epoxy floor coatings to urethane floor coatings. What are the pros and cons of each? Which is better?
What many people do not realize is that epoxy and urethane can be used together to create a durable, long-lasting floor for your industrial facility. Let's take a look at how it works.
What do epoxy and urethane floor coatings accomplish together?
While epoxy and urethane both make for highly effective industrial flooring solutions on their own, epoxy and urethane are sometimes used in tandem on concrete floors for the best of both worlds. Granted, combining these flooring options ends up being a more expensive option, the price comes with unmatched durability and longevity.
So, let's answer the big question you're asking...
What benefits do epoxy and urethane offer in tandem that they don't provide on their own?
The floor will last longer than any other floor coating solution. You won't need to pay to replace your floor for at least another decade.
The resale value of your industrial facility improves with the quality of your floor.
The floor is resistant to damage from water, oil stains, abrasions and impact.
The floor is resistant to corrosion due to

industrial chemicals.
How do you correctly use epoxy and urethane together?
First off, using epoxy and urethane in tandem does not mean that you're actually mixing the two components into a single solution. Rather, epoxy and urethane are applied in layers. First, an epoxy floor coating is laid over concrete, and then a urethane layer is applied over that.
Epoxy and urethane bond together effectively for an extremely durable floor. As a rule, urethane doesn't bond to cement as well as epoxy does, which is the appeal for using the two floor coatings in tandem.
What environments warrant the combined application of epoxy and urethane?
At CPC Floor Coatings, we want you to have the most durable, long-lasting floor available. We also want your flooring solutions to be suited for your environment. Contact us about your flooring needs, and we'll schedule a consultation to determine what floor coating application is right for you.