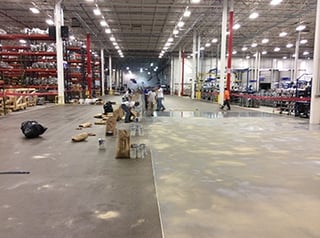 Urethane is an excellent floor coating option for commercial and industrial projects alike. A few coats of polyurethane protects an industrial manufacturing facility's floor, providing a smooth durable finish that has superior resistance to corrosion, abrasion, and chemical exposure.
When applying a urethane coating for any project — be it DIY or a professionally-installed industrial floor coating — there are certain maxims to keep in mind. Pay attention to these two key tips for installing a urethane floor coating in order to get the best results possible:
1. Start with good surface prep
One of the most important keys to remember about prepping a surface for urethane floors or any floor is to thoroughly clean, dry, and strip the surface of any remaining coatings. Then, the surface must be roughened to give the new coating extra surface area to bond upon.
For concrete, any chemicals, oils or similar compounds must be removed, and then the floor must be ground with a shot blaster, diamond grinder or similar apparatus before urethane application begins.
2. Know the difference between water and solvent-based Polyurethanes
In a nutshell...
Water-based Polyurethanes
have thinner coats
dry more quickly
may cost more

have less of an odor during application and curing
Solvent-based Polyurethanes
have thicker coats
typically dry more slowly
are less expensive

may have a strong lingering solvent odor
Let CPC Floor Coatings be your urethane floor installation experts!
Need advice or a professional hand with your project? Let CPC make your urethane floor as beautiful as possible using our extensive knowledge and experience. We take the guesswork out of your project and leave you with a perfect mirror finish every time. Visit our industrial urethane floor coatings page to learn more.