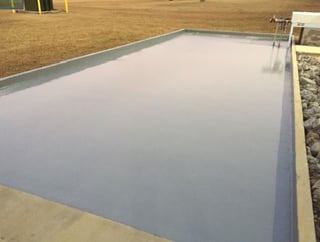 Recently our crew applied a protective coating to a concrete off-loading containment ramp for an aerospace client. Since this ramp functions as a containment area, it was important that we chose a coating that is chemical resistant as well as one that could stand up to the outdoor elements.
Our Concrete Coating Solution
Our team applied a water-based, modified urethane coating, which features characteristics of both epoxy and urethane. It protects the concrete underneath from chemical attack, and it's strong enough to provide wear resistance and prevent impact damage that may happen during loading and unloading heavy materials. The concrete ramp coating is also non-slip for increased worker safety.
(Learn more about the benefits of epoxy, urethane, and other specialty floor coatings).
We know that production downtime is a big deal for facility owners. Fortunately, this particular coating cures quickly, meaning the ramp didn't have to stay out of commission for long. Since the loading ramp is located outdoors, we also chose a coating that's suitable for concrete that may stay damp during rainy weather.
It might seem like a small job, but it's made a big difference to the people who use this ramp as part of their work routine!
Does your facility have a flooring challenge you're not sure how to solve? The experts at CPC Floor Coatings have helped solve unique problems for a large variety of industries, and we'd love to take a look at your facility as well.

Call us at (864) 855-0600 or contact us online to talk to one of our floor coating experts. We'd love to help you find a custom solution!