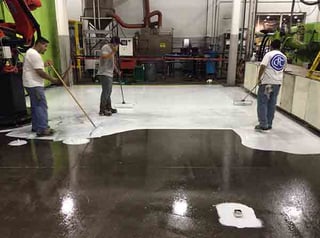 If someone asks you to identify one material without which you cannot even think of any modern civil construction, your answer can only be concrete. Concrete is one of the most essential components of most modern construction.
Are You Eco-Friendly? Go Green!
By avoiding any other materials in flooring, we only reduce the carbon footprints and construction practices considered that much "greener". So the answer lies in making the concrete floor smooth, durable, and soothing to the eyes by color and design. We can boast of a greener and an eco-friendly floor construction by choosing concrete polishing over other concrete surface treatments that have a higher carbon footprint on the environment. By polishing an existing or new concrete floor, we provide a highly sustainable and cost effective floor that lasts a lifetime. It is a greener and eco-friendly floor compared to any other flooring with minimal maintenance.
Next steps?
CPC Floor Coatings is an industry leader when it comes to polished concrete floors. We pride ourselves on our quality, capabilities, attention to detail, and efficiency. Get all of these benefits listed above along with peace of mind knowing you have the best floor company by scheduling a service or calling us at (864) 855-0600.