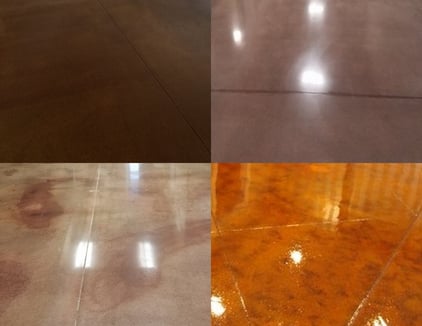 Want a simple way to brighten up your existing concrete floor? You may already be aware of how the concrete polishing process can bring dull floors to a beautiful shine, plus improve your floor's ability to stand up to heavy foot traffic.
Did you know you don't have to stick with the existing gray color?
Concrete stains and dyes, applied prior to polishing, are available in an array of earth tones and jewel tones to beautify your floors even more.
Different colors can be applied in geometric patterns or with the use of detailed stencils. And some contractors can even use skilled hand techniques and a second stain to create marbling or even bolder patterns.
The photo above represents some of the color and pattern combinations we've done for recent clients. The two top photos represent a solidly applied single color for a rich finish. The photo in the bottom left is from a school classroom and used a hand-applied, free-form design, while the floor on the bottom right used a smaller pattern.

Note that the high amount of gloss comes from the surface of the polished concrete itself, not from an lacquer.
Stained and polished concrete can be a great solution for:
Church lobbies and community centers
There are some situations, however, in which staining isn't the best solution. Read our recent blog post to learn more about the pros and cons of staining concrete.
Interested in learning more about how concrete staining and polishing could improve your facility? Talk to one of our experts about your specific facility.