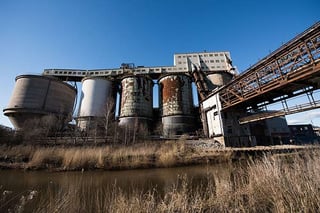 While chemical corrosion is an important concern for facility managers and company owners, the risk isn't jsut an aesthetic one.
While corrosion may ruin the look of a flooring system, making it seem dated or run-down even in brand new facilities, what corrosion will really damage is the durability and performance of the floor itself.
We believe that the best offense is a good defense. The best way to protect your business from corrosion is to choose the best contractor and floor coating system right from the start.
Step One: Choose Your Coating System
Choosing the correct floor coating system is the most important first step you can take to protect your facility. Coating systems are designed to withstand certain types of use or corrosion and, depending on your industry, may include very specific protections. Regular flooring or the standard epoxy coating may simply be ineffective, especially in situations such as wastewater treatment facilities or pharmaceutical research. With the right floor coating, containment of chemical spills and overall maintenance will be easier and safer.
Step Two: Invest Beyond the Secondary Containment Coatings
The next step is to ensure that your coatings contractor is providing you with a system that is fully integrated. Providing a coating with improper termination points, not addressing issues such as cracks or joints, and not investigating the condition of the substrate before installing your flooring can end up costing you hundreds or even thousands of dollars... more than if you haven't had a protective coating installed in the first place.
Step Three: Make Sure Your Contractor is Qualified to Install the Selected Coatings
We've heard of far too many contractors who get into the floor coating and containment market without pursuing the qualifications and experience required to really do a good job. Make sure you research the contractor you choose to work with before you ever hire them. You'll want to ask about the amount of time they've been in the business, their experience, recommendations, and certifications. You should also ask for contact details for previous jobs if possible, to get an idea of how they have performed for other companies.
Worried About Corrosion? CPC Floor Coatings Can Help
Whether you're looking to construct a new facility from scratch or new repairs or renovations on an existing facility, you need to know that you're working with a company that is as invested in keeping your business and employees safe as you are. CPC Floor Coatings combines our years of experience with an emphasis on professionalism and customer service to install, maintain, or repair high-quality floor coatings throughout much of the Southeast. Give us a call at (864) 855-0600 or contact us online for more information, or schedule your consultation by clicking the banner below.