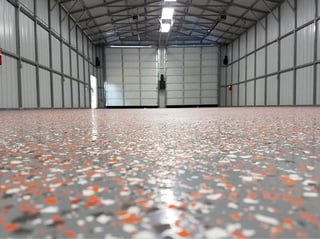 Whether you're building a brand-new facility or renovating your current one, you don't want to overlook the importance of flooring that will stand up to your industry's day-to-day operations and keep employees safe. There aren't many simple one-size-fits-all solutions out there, especially if your facility does specialized work. So how do you determine what kind of floor coating or flooring system you need to be looking for?
Here are three steps that will get you started on finding the right flooring fit:
Determine your facility's needs
The primary consideration for choosing flooring is to understand exactly what conditions it needs to perform under. This will help you understand how much durability you'll be looking for, and to identify special features you'll need, such as slip-resistant surfaces for heavy foot traffic areas or extreme chemical resistance. Here are a few questions about your flooring to get you started:

Will your floors need to stand up against heavy machine traffic, or will they primarily be used for foot traffic?
Will they have to endure unusual temperatures?
Will the floors in your facility need to hold up against chemical exposure or potential corrosive spills?
Do you need to protect electronic equipment from static charges?
Are you in the food industry and need to meet USDA safety regulations?




Conduct a moisture test
Concrete is a porous substance that often retains some amount of moisture, and it may allow water vapor from the soil below to work its way up into your building. Depending on environmental factors, high levels of moisture can actually cause a coating placed over it to blister or delaminate in just a few days. A moisture test will give you insight into what problems you may need to find solutions for (such as installing a moisture control system) and can prevent you from wasting money in the long run.


Do your research
Knowledge is power, and the more you know about the different types of floor coatings available, the more likely it is you'll choose one that fits your needs well. Once you decide on a particular type of floor coating, you'll want to research which products on the market will give you the best value and quality, and will need to take into consideration how installation will affect your production schedule. You'll also want to learn how to clean and properly maintain your new floors so you can keep your investment working at its best for years to come.
If you'd like an expert opinion on any of the items above, the knowledgeable staff at CPC Floor Coatings would be happy to help walk you through the process of choosing and installing the best floor coating for your facility. Give us a call at (864) 855-0600 or contact us online for a free, no-obligation consultation.