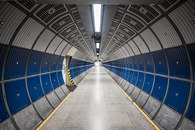 Epoxy floor coatings are a long-term investment that can greatly prolong the life of your industrial concrete or hard surface floor. An epoxy coating has the potential to breathe new life into spaces, enhancing the floor's performance while also improving its aesthetic value.
Here are some of the top advantages to installing an epoxy floor coating in your facility:
It Protects Floors from Impacts and Wear
Concrete floors are tough, but they are not indestructible. Vehicle and foot traffic, spills, abrasions, unresolved moisture issues, and the impact from dropped items can damage floors over time.
Epoxy floor coatings provide a tough impact- and abrasion-resistant surface that acts as a shield for your flooring system. It blocks out moisture (from below as well as from above), and helps prevent spalling and other damage.
Reduced Friction Maintenance
Concrete is porous, meaning it can absorb chemicals and staining substances such as grease and oil. Even in industrial environments that do not have these potential contaminants, an unfinished concrete surface "sheds" constantly, covering everything in a fine layer of dust.
An epoxy floor coating creates a moisture-impervious, low-friction surface that can make cleanup and maintenance a breeze. Sweeping and mopping are greatly simplified, especially as the floor ceases to shed. Oils and contaminants stay on the surface of the epoxy where they can be cleaned up without leaving permanent stains deep within the floor itself.
With an epoxy coating, more advanced floor cleaning systems like industrial floor cleaning machines or whole-floor flushes can be done without the risk of long-term damage. The building becomes cleaner and even perhaps safer thanks to the control site owners have over contaminants.
Aesthetic and Functional Value
Having a great-looking work environment can improve worker morale while also making a good impression on business partners, clients and investors.
Beyond simple aesthetics, colored epoxy can also be used to create floor color coding systems to direct traffic flow, designate work zones, and clearly communicate safety information.
An array of color options (including metallic and pattern effects) can also be used to create a unique environment that enhances your company's brand.
Improved Safety and Quality Control
Certain manufacturing and processing industries use heavy-duty chemical solvents during daily work activities. Unlike concrete, epoxy floor coatings can resist to corrosive chemicals, while making their cleanup easier and safer.
Epoxy coatings are also available with special properties such as added aggregate and other textures for slip resistance, electrostatic dissipative (ESD) capabilities, USDA food safety compliance, and more, depending on industry needs.
Need a knowledgeable epoxy contractor?
While you'll find plenty of DIY kits on the market, there are a number of installation errors that can cause epoxy coatings to bubble or fail to adhere to the floor.
For an industrial or commercial facility you'll want to make sure you have an experienced contractor on your side who can ensure you get the most out of your investment.
If you're in the Southeastern US, you'll find that CPC Floor Coatings is an industry leader with a strong track record in successful epoxy installations. You can learn more about epoxy floor coatings and how we handle them at our epoxy flooring information hub.