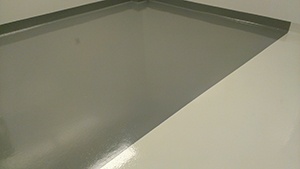 Your choice of floor coating is an integral aspect of your facility's safety and productivity. The right floor coating should require only moderate amount of maintenance and should provide you with the reliable, consistent foundation you need. The wrong floor coating—or a floor coating that's incorrectly applied—may cost you hours dealing with unforeseen problems and expensive, time-consuming repairs.
Epoxy floor coatings are commonly used on the floor of professional mechanics or in automobile service locations, but they're also an immensely useful commercial flooring option for many industries.
Primarily applied as a sealant for concrete floors, epoxy provides a high level of shine and professional appearance, while providing the durability needed for industries as diverse as food and beverage plants, storage warehouses, and pharmaceutical plants.
Here are just a few reasons your facility might consider applying an epoxy floor coating:
1. Epoxy resists chemical corrosion
Not only is an epoxy coating strong enough to withstand the constant foot traffic of employees, but it can also be formulated to hold up against corrosive chemical agents. For facilities with high levels of chemical exposure, learn more about extreme chemical resistant flooring.
2. It offers a relatively shorter curing period
If you're looking to reduce some of the production downtime associated with new flooring, epoxy may be a faster option than some other floor coatings. Keep in mind, though, that it isn't as fast as processes such as concrete polishing, and that it does require careful surface preparation to ensure the coating properly bonds to the floor. That being said, once successfully applied, an epoxy coating may not need to be replaced for many years.
3. Its aesthetics can be customized for your needs
Epoxy floor coatings are available in a wide variety of colors and even metallic hues, so that it can match your company aesthetic perfectly. Colors can also be applied for marked pathways and other striping designations for safety and 5S compatibility.
4. It's relatively low-maintenance
Once the epoxy coating is applied, your concrete flooring is no longer porous and no longer stains as easily. Spilled liquids remain on the surface of the floor, where they are easily mopped up without scrubbing. Less time spent cleaning up means more productive worktime and fewer safety hazards.
5. Epoxy floor coatings can keep employees safe
Not only is epoxy resistant to chemical corrosion and staining, but it also can prevent bacterial growth within the concrete itself. It resists damage from impacts and abrasion that can create tripping hazards, and it can have anti-slip textures added as needed.
Interested in learning more about epoxy? Give CPC Floor Coatings a call! We will be glad to speak with you about your facility's needs and whether or not epoxy floor coating would be the right option for you. You can reach us by phone at (864) 855-0600 or by contacting us online.