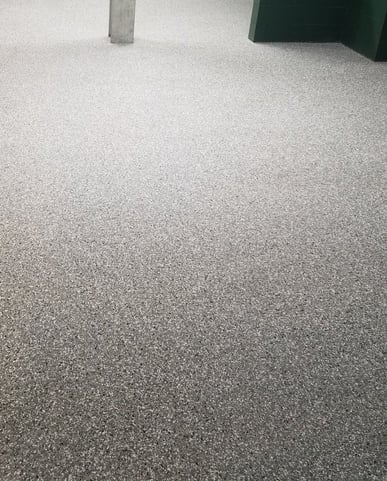 Looking for a way to prevent slip-and-fall accidents at your manufacturing plant or warehouse? Or do you want decorative—but functional—flooring for your retail outlet or healthcare facility?
Here's why a broadcast quartz floor may be right for you.
What is broadcast quartz flooring?
After an epoxy floor coating is applied to the prepared concrete floor, the installation crew scatters crushed quartz onto the still-wet surface. When the epoxy hardens, the quartz sets into the floor and becomes a permanent fixture. A clear topcoat may later be applied.
The crushed quartz may resemble simple sand, for the most utilitarian applications, or it may be a specially blended colored quartz. Occasionally other minerals, such as mica, are added for a unique look.
Benefits of broadcast quartz flooring
Instead of epoxy's typically smooth finish, broadcast epoxy has a textured feel that provides a slip-resistant walking surface. This is especially helpful in environments that tend to have wet floors, such as athletic locker rooms, parking garages, or manufacturing plants that have frequent spills.
Broadcast quartz may be chosen for its beauty as well as its functionality. Both epoxy coatings and crushed quartz are available in many colors, and they can be combined to create a variety of color options, from subtle neutrals to bold jewel tones.
And of course, broadcast epoxy floors have all of the other benefits of regular epoxy flooring, including:
Strong resistance to abrasions, scratches, and chipping
Resistance to stains from oils and chemicals
Ease of cleaning (Liquids stay on top of the surface rather than seeping through.)
Longevity (With the proper application, a coating may last up to a decade.)
Learn more about the benefits of epoxy flooring.
Common applications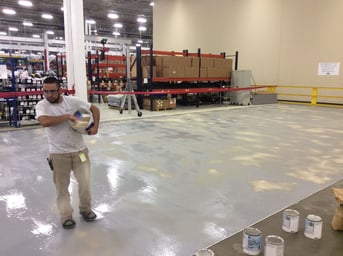 Broadcast quartz is an ideal fit for several industries, including:
Hiring a professional installation crew
As with any kind of floor coating installation that may be in the public eye, you'll want to employ the skills of an experienced epoxy flooring contractor with a steady hand and plenty of practice. You don't want to end up with an uneven distribution pattern or, worse, a coating that doesn't bond properly to the floor.
If you're in the Southeastern U.S. and are looking for a broadcast flooring expert—or if you want to get a professional opinion on what type of flooring is best for your facility—talk to one of the experts at CPC Floor Coatings. We've worked with industries of all types and would be happy to take a look at your facility and make recommendations.