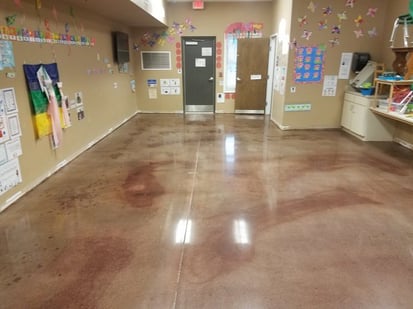 If you're in charge of maintaining a school building, you want to make sure you provide a cheerful, safe, and sanitary environment where children can learn—but you also know how tough kids can be on the facilities day in and day out!
Floors can be especially difficult to keep in good repair. Whether it's because of tracked dirt, scuffing shoes, or even accidentally dropped items, it's easy for floors to start looking chipped and worn.
If you need to renovate part or all of your facility, chances are you're looking for a durable solution for lobbies, hallways, and other common areas—preferably one that's easy to clean and doesn't trap allergens.
Here are three economic flooring options that may be a good fit for you:
Polished Concrete
We've found that polished concrete can be a great solution for school lobbies and even classrooms. Not only does it look great—especially when a colorful stain technique is applied—but the process of polishing increases the floor's hardness. Polished concrete stands up well under heavy foot traffic, and its smooth surface makes it easier to clean than grouted tile. It is also a little less slippery when wet than tile, and it's economic because it uses the existing floor instead of bringing in other materials.
Epoxy Flooring
Durable, damage-resistant, and impervious to moisture, an epoxy floor coating can be a great choice for bathrooms, halls, and science laboratories. It's available in a nearly limitless array of colors, including playful confetti patterns, and can be used for friendly directional markings in hallways. You can even get bold with space-like patterns or shimmering metallic epoxies for science classrooms or main foyers.
Urethane Coatings
A coat of clear urethane can help protect hardwood (such as in school gymnasiums), concrete, or other existing flooring. Urethane's superior strength makes it abrasion- and wear-resistant, and it can sometimes last for a decade or more before needing re-application. Learn more about urethane floor coatings.
Not sure which solution or (combination of solutions) is right for your school? If you're located in Georgia, Eastern Tennessee, or the Carolinas, contact our flooring experts. We'll be happy to take a look at your facility and make recommendations tailored to your needs.