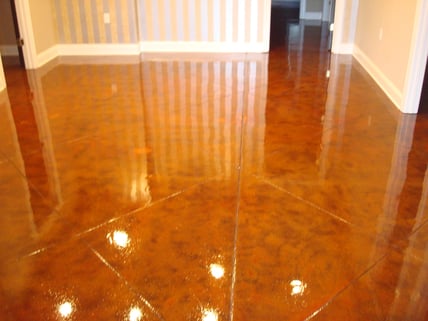 Considering a concrete stain for your store, clinic, or customer lobby? Here are several things to consider before investing in the staining process:
Pros of concrete staining
It increases the aesthetic value of your floor. Concrete stain comes in a variety of shades, including neutrals, pastels, and deep tones. Experienced contractors can add visual effects such as marbling, swirls, waves, or stenciled designs. Staining can be simply a subtle upgrade from a plain gray concrete floor, or it can become the attention-grabbing focal point of your facility's decor.
It's economical. Concrete staining allows you to make the most of the floor you already have—the underlying concrete slab—instead of paying for carpet, laminate, or hardwood to be laid over top of it. A quality water-based or acid stain isn't going to be extremely cheap, but compared to other flooring options it's a very cost-effective buy.
It can be used in combination with other floor finishes. Stain can be applied prior to the concrete polishing process for a durable, glossy finish that's great for high-traffic areas. It can also be sealed with a clear urethane coating to protect it from spills and abrasions.
Cons of Concrete Staining
It doesn't enhance the performance of the floor. Keep in mind that concrete staining is purely aesthetic. It doesn't improve the floor's strength or durability, and doesn't change it resistance to spills or damage. If you'd like to protect your floors, we recommend combining it with another method (see point above) or opting for a decorative epoxy.
It can call attention to imperfections. Staining doesn't cover up cracks or discolored areas the way that paint or pigmented epoxy can—rather, it can actually highlight aspects that are different. That's why it's important to make sure the floor surface has been properly prepared beforehand. And if you're dealing with a floor that's drastically uneven in color, you're better off choosing a different refinishing method.
It isn't a good DIY project for commercial settings. Some patterns, such as marbling effects, take a steady hand and familiarity with the medium to pull off correctly. And once the layer of stain goes down, you may only have a few seconds to manipulate it with the right tool—then it's set permanently. This is why it's important to hire an experienced contractor for anything that will be on display for your customers!
Want an expert opinion on whether stained concrete is right for your facility, or are you looking for a trustworthy contractor? Someone from CPC will be glad to talk with you about your project. Give us a call at (864) 855-0600 or contact us online.