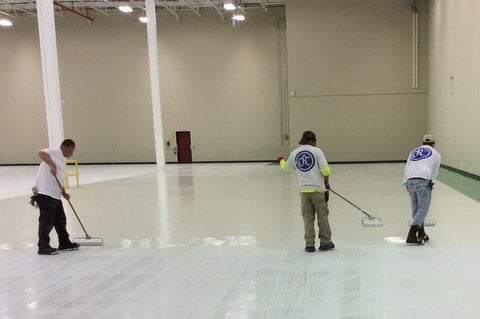 There are a myriad of reasons to consider an epoxy floor coating for your industrial or commercial facility—including superior durability, ease of sanitation, and pleasing aesthetics. While epoxy's long life makes it a cost-effective flooring solution, it does include some initial upfront cost.
You may be tempted to save some money by installing the epoxy coating yourself, or hiring unqualified help to install it for you. After all, there are plenty of do-it-yourself kits designed for home garages—why not try to DIY it on a larger scale?
As it turns out, applying an epoxy floor coating is not an easy process as it may initially seem, and a seemingly simple mistake could undermine your entire investment.
Here's why it pays to hire an experienced epoxy flooring contractor:
Prevent costly errors
Epoxy flooring requires very careful surface preparation, and if it's not done correctly, the coating may fail. For example, if the epoxy is applied on a floor that's not cleaned properly or not at the right temperature, it can form unsightly bubbles or other deficiencies.
Worse, the entire coating could fail to bond to the floor, compromising its strength and protection—meaning your floor is not much better off than before!
Better aesthetic results
Some types of epoxy require more than just the ability to spread a coat evenly. Not only do you want to avoid blisters or bubbles (see the point above), you also want someone who knows the medium well and knows how to apply straight lines and graphics that don't bleed or smudge.
If you're doing a special visual effect that takes artistic skill—such as applying a ripple, marble, or metallic design—you'll want someone who can prove they've successfully done this many times before!
Reliable estimates and completion dates
As a business owner, you understand the high cost of downtime. The last thing you want is to expect a renovation project to be short and sweet, only for it to drag on for several extra days and incur one unexpected expense after another!
When you hire an experienced epoxy flooring contractor, you're working with someone who has a realistic—instead of overly optimistic—view of how much time and labor the project is going to take. They'll be able to spot potential complications ahead of time and work that into their estimate, instead of being surprised by them midway through.
So when comparing job estimates from different contractors, don't go for the one who offers the lowest price. Instead choose the one who considers all the details and errs on the side of caution—because the chances are they'll be able to honor their word in the end.
Experienced Epoxy Contractors in the Southeast
If you need a reliable general contractor and are located in Georgia, North Carolina, South Carolina, or Eastern Tennessee, you can get a free consultation and estimate from CPC Floor Coatings. We've been in the business for 40 years and we'd love to hear about your project. Give us a call at (864) 855-0600 or use the banner below to contact us online.