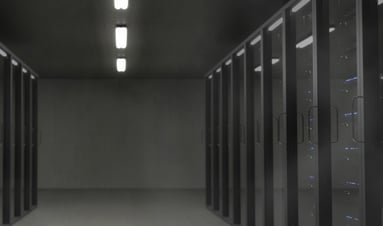 We know how important environmental control is for data centers—from carefully regulated air temperatures and humidity levels to two-roof systems to prevent the possibility of leaks onto sensitive equipment. Whether you're building a new facility or transforming an outdated data center to meet today's standards, you'll want to invest in flooring that helps control the environment and protects equipment.
If your facility has concrete flooring, installing an epoxy coating is an economical option that offers several major benefits:
Weight support
An epoxy coating is created by combining a resin and a curative, resulting in a chemical bond that's stronger than the sum of its parts. Epoxy is extremely durable and is strong enough to handle the weight of thousands of pounds of equipment.
Its semi-flexible surface allows it to resist cracking even if heavy items are dropped or dragged along its surface when being transported.
Cleanliness
An epoxy coating eliminates the natural dust produced by untreated concrete, and it can be formulated to block moisture vapor rising from the underlying ground through the concrete. It doesn't trap dust or hold moisture the way that carpet or tile grout can.
Epoxy's smooth surface also makes it easy to sweep up dust and debris, without it getting trapped in cracks or crevices. It is impervious to liquids, meaning any spills can be mopped up, instead of seeping into the concrete and potentially compromising the controlled climate.
Versatility
Epoxy is well-suited for nearly every part of your facility. It can create an attractive lobby area, keep a break room easy to clean, and can even be used in the kitchen and restroom areas.
For the server rooms themselves, epoxy will strengthen the flooring that forms a base beneath the raised floors or structural platforms. Epoxy can also be applied to metal plates of the raised floors themselves if needed.
Aesthetics
The monotonous beige-and-white color scheme is becoming a thing of the past. Today's data centers often feature more vibrant colors and more intentional design. This can be a practical choice—for example, for color-coding entire server rooms—or it can be implemented to make a positive impression on clients who may visit parts of the facility.
Epoxy comes in a wide variety of vibrant colors and patterns, including metallic shimmer. CPC has even worked with a data center that requested color flake epoxy throughout the facility.
Talk to an expert
Do you think epoxy might be the right flooring solution for your data center? To prevent peeling or other flooring failures that could compromise the floor's strength and cleanliness, you'll need to work with an experienced epoxy contractor who can ensure the coating is properly installed.
If you're located in the Carolinas, eastern Tennessee, or the greater Atlanta area, contact CPC Floor Coatings. We'd love to take a look at your facility and give you a free, personalized estimate.