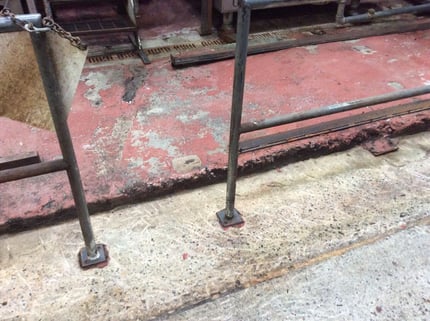 Over the past several years, our area has experienced a good deal of economic growth, even while other parts of the nation were recovering from the Recession.
At times, the demand and opportunity for new businesses has outpaced the availability of new commercial properties, so some savvy economic developers have turned to re-purposing existing buildings, such as abandoned mills and factories. Re-using sturdy historic buildings is often more financially feasible—and more responsible—than tearing them down and building new ones.
These older buildings, some of which have been around since the beginning of the last century, often feature visually interesting features such as exposed brick. With the right upgrades, these buildings become a great location for industrial-inspired coffee shops, breweries, fine arts retailers and more.
One issue with refurbishing old buildings, however, is often the floors. After years of use and then disuse, concrete may be stained, discolored, or uneven. As the building has settled over the decades, random cracking can create an eyesore, and even planned joints may have become a point for spalling and other damage.
So what's an economic developer to do? A simple solution is to cover the floor up with carpet or hardwood, but this is often an expensive route to go.
Fortunately, in many cases, a concrete floor in this state doesn't have to be covered up or given up as a loss. With the right methods, the floor can be restored to a state of functionality and even beauty. A few possible methods include:
If you're part of a regional economic development team in Georgia, Eastern Tennessee, or the Carolinas, we'd love to be the flooring contractor you can recommend to your clients with confidence. To learn more, call CPC Floor Coatings at (864) 855-0600 or contact us online.