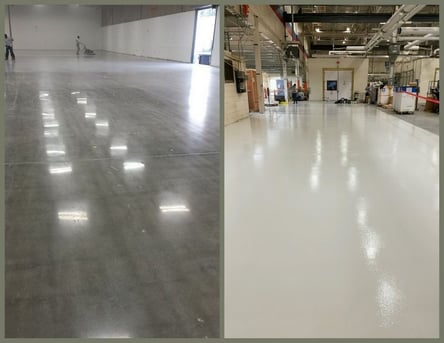 Trying to decide which concrete flooring option is best for your commercial or industrial facility? Two popular choices that you may have come across in your research are polished concrete or a professional floor coating, such as epoxy or urethane.
To ensure that you get the right flooring system to meet the specific needs of your site, we'll outline the advantages, disadvantages and recommended use cases for each.
Polished Concrete: A Commercial All-Star
The process of polishing concrete requires skill, specialized equipment, and patience. Once the surface has been properly prepared is adequately level, the grinding process can begin. Each stage uses progressively finer grit strengths, ranging from a 400 grit semi-gloss finish to 800, 1,500 or even 3,000 grit that creates a highly reflective surface.
Major advantages of polished concrete include:
High aesthetic value
Economy, since it uses the existing concrete slab surface
Increased concrete density and strength
Eliminates most "shedding" and dust associated with concrete flooring
Moderately good traction, even when wet
A properly polished floor will require only an occasional re-buffing every few years or so, depending on the amount of foot traffic it supports.
Polished concrete, while denser than untreated concrete, is still porous, meaning liquids can seep beneath the surface and stain it. It can also be damaged by heavy machinery. If your site deals regularly with oils, caustic chemicals, food processing, or heavy machinery, polished concrete may not be the right choice.
Best fits for polished concrete:
Customer or client lobbies
Retail floors
Coffee shops
Industrial facilities with light traffic
Warehouses
Industrial Floor Coatings: Superior Protection
Floor coatings such as epoxy or urethane bond to the surface of the floor to form a hard, protective barrier. They are typically impervious to liquids, and they minimize damage from impacts or scratches. Installation requires careful surface preparation and application by an experienced crew for best results.
Major advantages of industrial floor coatings include:
Many floor coatings last between 7 and 15 years, although high-stress environments may see a shorter lifespan. However, this feature is actually a benefit since damage to a polished concrete floor means repairing the concrete itself, not just re-applying a coating. Coatings therefore protect the longevity of a flooring system more reliably than polished concrete can.
Best fits for epoxy or urethane floor coatings:
Heavy industrial sites
Food processing facilities
Facilities that deal with corrosive chemicals
Warehouses
Need an expert opinion?
If you're not sure which option is right for you, or you'd like an expert opinion on your facility's specific needs, one of our flooring experts would be glad to talk with you. To schedule a conversation, call us at (864) 855-0600 or click the banner below.