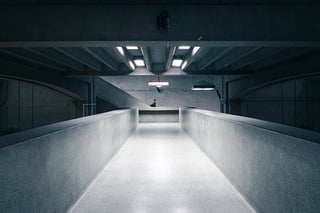 Concrete is formulated by mixing four basic ingredients: Portland cement, small aggregates such as sand, large aggregates like gravel or crushed stone, and water. Cement is manufactured in five different grades, based on their setting and curing time. These options allow you to choose different levels of durability and blend.
The perfect mix of concrete for any working condition can be met simply by altering the ratios of one or more of the ingredients (and the occasional help of certain additives). The concrete can also be reinforced with steel or wire mesh to add to its strength.
Concrete has long been the standard flooring choice for commercial building and industrial facilities. The hardness of the concrete surface, along with its good compression, impact, flexural strengths, abrasions, and scratch resistance makes it the ideal and cost effective choice for floors. There are drawbacks, however: the rough porous finish and lack of aesthetics in a concrete floor. If you're searching for a smoother, more polished finish that can match your company's aesthetics, you may consider staining and polishing the concrete floors.
The hardness of a concrete floor is dependent on the quality and grade of cement, the aggregates, and the ratio of water used for curing. Grades M20 and higher for Portland cement are usually used in concrete flooring at commercial establishments.
The hardness of an unpolished concrete can range from 3000 PSI to 4500 PSI, depending on its composition. While polishing the concrete floor, Polycarbonate resins are added, which imparts a further additional strength of 500 to 1000 PSI. With the addition of Potassium Silicate or Lithium Silicate as densifiers during polishing, the surface hardness of the polished concrete floor is brought to 7 and higher on the Moh's scale.
Before final grinding operation, the surface cracks on the floor can be sealed with Epoxy Sealants. This makes the polished concrete floor more impermeable. Without any crevices or valleys on the surface to lodge on to, the dust collection on the surface is minimized, making cleaning the floor and its maintenance extremely easy. The lack of aesthetics in a concrete floor do give it a stereotypical dull grey color. Acetone dye stains cn be used to penetrate the surface, however, giving a polished concrete floor that much desired face lift.
The final finished and polished concrete floor will be durable and strong. Staining the concrete with a wide range of colors and architectural or logo designs will allow you to both match your company's style and also provide safety guidelines that are no doubt essential to your employees. The overall improvements to the floor after polishing are its increased chipping resistance and a smooth colorful floor. It will last for years if maintained well, with only a simple cleaning and dusting as and when required.
No other flooring can provide this performance at such a low cost.
Talk To A CPC Professional Today
For more information on concrete floors, having your floor polished, and the benefits of renovating your current floor with a concrete floor, contact us at CPC Floor Coatings or give us a call at (864) 855-0600. We're ready to get started when you are.