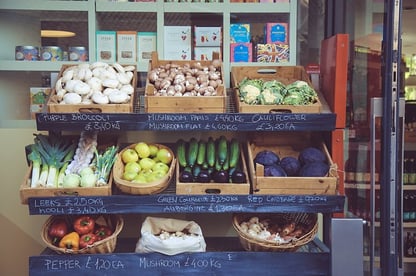 The expansion of European grocery chain Lidl into the US starting this June is projected to make the already-competitive grocery industry even more strained. Grocers such as Lidl as well as Aldi and even Walmart's Neighborhood Market now offer organic products at very low prices, and they're updating the aesthetics of their stores to appeal to customers who are used to high-end chains such as Whole Foods.
Customers are no longer choosing either quality products or affordability; they're learning they can expect it all in one store.
If you're looking to keep your independent grocery store or chain competitive in today's market, you'll want to make sure your store looks modern and attractive while also keeping costs down.
This important aesthetic includes your flooring. Here's a quick overview of some cost-effective flooring options for today's grocery store:
Tiles
While traditional tiles look and feel nice, they may be prone to breakage and aren't easy to replace. In addition, the grout stains easily, catches dirt, and may become a harboring spot for bacteria if not sealed properly.
The old standby of vinyl composition tile (VCT), while a little easier to maintain, often looks dated and doesn't always endure well in high-traffic areas.
Polished Concrete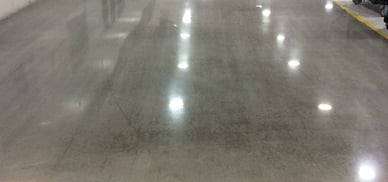 If your store already has a concrete slab, polishing may be one of the most economical solutions. The physical process of grinding down the surface actually increases the floor's strength and durability, and eliminates any problematic shedding of dust associated with untreated concrete.
Polished concrete's luster looks attractive, and it is moderately slip-resistant even when wet, making it a practical choice. It's ideal for conveying a modern or industrial aesthetic without looking too harsh. Dyes and even acid staining can be applied during the polishing process for additional color.
For installation, you'll want to go with the wet polish method, a cleaner process that eliminates dust contamination. Learn more about polished concrete.
Epoxy
The two-part epoxy flooring system is extremely durable, able to stand up against abrasions, dents, and constant traffic from shoes and shopping cart wheels. Special USDA-approved grades are available that discourage the growth of bacteria and viruses.
In terms of aesthetics, epoxy floor coatings are one of the most versatile. They are available in an endless array of color and pattern options, including customized graphics, subtle color flakes, and shimmering metallic hues.
Epoxy is easy to maintain, too: its smooth surface makes it easy to sweep and mop, and it prevents spills from seeping into the concrete below. Like most flooring, epoxy takes a few days to install, but it can last many years before needing to be repaired or replaced. Learn more about epoxy flooring.
Other flooring options
Of course, there are other options that convey an upscale feel, such as hardwood, but these may be cost-prohibitive in today's competitive market, and they're not as easy to protect from damage.
If your grocery store has special considerations, however, you may want to call in an expert to determine whether there are solutions that are less than typical. If you're in the Southeastern United States, the experts at CPC would be happy to give you a free consultation—you can reach us at (864) 855-0600 or contact us online.