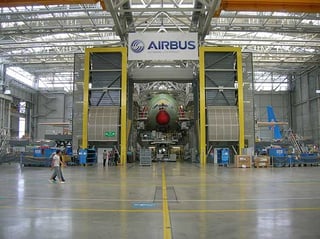 "General manufacturing" is an umbrella term that can cover a huge variety of different workforce situations. Whether your facility involves the assembly of car parts, household appliances, aircraft, or packaging systems, there's one thing just about every variation on general manufacturing has in common — high foot traffic and a large production room that requires an emphasis both on safety and design.
Interested in building a new manufacturing facility? Renovating or repairing an already-existing facility and looking to improve your current flooring situation? CPC Floor Coatings is here to help. Let's take a look at the kinds of floor coatings that work best for our clients in the manufacturing industry, and why these choices will help protect your employees and your bottom line.
Minimize Costs With a Coated Concrete Floor
Whether it is light foot traffic or high-volume forktruck and cart traffic, anti-slip and anti-skid is continuous concern. High-quality epoxy flooring system helps prevent these issues, and reduce one of the most common workplace manufacturing injuries, and it can requires little in the way of continued maintenance to keep both its structural integrity and aesthetic intact.
Demarcations and designations on manufacturing floors can make all the difference in safety awareness and production. Coated concrete floors are a great choice when wanting to implement designated traffic aisles, product placement, or process for workflow. We're able to work with you on installing these designs with long-term results.
Spill-Resistant Equals Safety
An epoxy floor coating provides another added benefit as well — it's easy to clean! Concrete is incredibly porous, a spill-resistant epoxy coating makes cleanup less time-consuming and less difficult.
Choose a floor coating for your manufacturing facility, and you'll have efficiency, safety, and cleanliness covered.
For General Manufacturing Facilities, Call CPC Floor Coatings
CPC Floor Coatings has years of experience working with manufacturing facilities of all kinds, and we've made it our mission to provide high-quality floor coating installation, repair, and maintenance to our clients throughout much of the Southeast. Our emphasis on customer service and professionalism ensures that you'll be happy with your new flooring right from the start. Give us a call at (864) 855-0600 or contact us online at any time to learn more or to schedule your consultation.