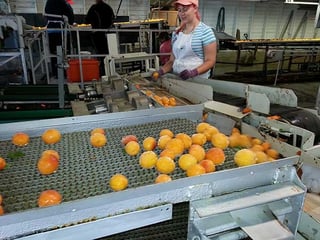 Whether you're working on opening up a food processing facility in the near future, already own and operate an industrial or commercial kitchen, or you've been considering opening up your own restaurant, knowledge about USDA-approved floor coatings will be essential to your success.
USDA-approved flooring options are a vital part of the success of businesses operating within the food and beverage industry. Anything less than the best can lead to food safety or health code violations that involve fines or even facility closure. Instead of taking that risk, invest in high-quality floor coatings that will help you and your staff stay within code, as well as keeping them safe from bacteria, mold growth, and other internal risks.
Requirements
Before choosing any floor coating for your facility, it's important to know exactly what is required when you're working within the food and beverage industry. Let's take a look at the requirements listed by the U.S. Department of Agriculture, which maintains in general that flooring must be constructed of "durable, easily cleaned materials, and be impervious to moisture." How does that work out in specifics? Let's take a look.
Flooring Options
The USDA has only a few options allowed when it comes to materials for flooring. These include:
Concrete
Brick
Quarry tile
Synthetic material
While this list seems quick and simple, there is actually a bit of variation within each category, so you'll want to be sure to speak with a qualified professional about your unique place in the food and beverage industry and what flooring options might be right for you. You'll also want to make sure you keep an eye on state requirements, which may be stricter than national guidelines in some areas and so will require special attention.
Looking for USDA-Approved Flooring Options? Give Us A Call.
CPC Floor Coatings has trusted resources when it comes to helping our clients not only choose the floor coatings that fit their industry requirements, but also maintain their chosen aesthetic and help to keep their employees safe on the job. The floor coatings we work with for clients in the food and beverage industry strictly abide by USDA standards without sacrificing style and design. Give us a call anytime at (864) 855-0600 or contact us online today. We'd be happy to speak with you about your unique floor coating needs and help you find the perfect choice.