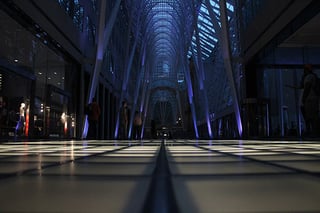 Safety and Flooring: In any commercial or industrial establishment, the floor traffic is higher than normal. The level of activity might be due to pedestrian traffic, in the case of a retail store, or rubber-tired vehicular traffic in certain manufacturing environments. Without clear demarcation in high-traffic areas, you could end up dealing with accidents, Workers' Compensation claims, or even just constant confusion as to who should be where at any given moment.
Accidents, spills, and other issues caused by unclear flooring could lead to costly flooring deterioration. Instead of taking this risk, it's important to look into how you can take your plain flooring system and help it provide safety guidelines for your employees today.
While there aren't exactly specific laws mandating flooring conditions or specific floor coatings in commercial or industrial establishments, any accident that occurs due to poor floor maintenance could end up hurting both your reputation and your bottom line. Anti-skid floor coatings that conform to ASTM D 2047 standards are a great way to prevent costly slip-and-fall accidents.
Hygiene and Floor Cleaning: If your company works within the food Industry, a certain standard of hygiene is all-important. On the other hand, chemical resistance is considered a higher-priority in a chemical or pharmaceutical industry. The one thing every industry has in common? The importance of regular maintenance and cleaning. If there are any voids or pin holes on the floors, it will become increasingly difficult to clean the buildup of dust and pathogens.
Aesthetics of the Flooring: The most common stereotype of concrete is simply its dull gray coloring. Epoxy floor coatings offer a great solution to what is often considered a "gloomy", visually displeasing aesthetic. Epoxy floor coatings can be applied in many different shades, which helps you not only to designate specific traffic areas to help your employees, but also provides a different in style that can match your company's aesthetics. You'll help your employees avoid clutter and up their productivity levels with clearly marked traffic areas and departmental zones.
Improved Surface Hardness, Scratch and Abrasion Resistance: A polished concrete floor or an epoxy floor coating on a concrete surface, has a hardness of 8 and above on Moh's scale. Essentially, this means that the surface will not scratch easily and can handle high-impact traffic and wear capacity. For example, the accidental drop of tools on the floor, or the weight of vehicles, will not cause damage and the lifespan of the flooring will be extended.
Improved flooring is always a valued and essential addition to the construction of any building. CPC Floor Coatings can be trusted when it comes to helping our clients with floor coatings that fit their industry requirements. Give us a call anytime at (864) 855-0600 or contact us online today. We'd be happy to speak with you about your unique floor coating needs and help you install the perfect floor coatings choice for your industry.