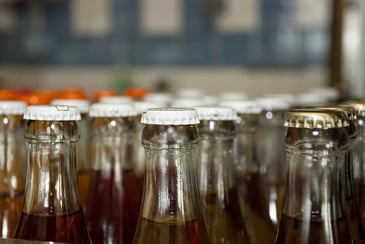 Are you looking to build a new beverage processing plant, or need help to remediate flooring issues in an existing building?
Whether you're running a small craft brewery, a coffee roasting operation, or a large-scale production plant for bottled drinks, the process you use likely has many stages. It's possible you'll need more than a one-size-fits-all flooring solution.
Here's a quick overview of different types of flooring to consider for different parts of your facility.
Production areas
For areas that deal with food products (particularly organic substances such as fruit, milk, and yeasts), it's imperative that your floors help you prevent product contamination. You'll need flooring that is not only easy to clean and sanitize, but one that can prevent the growth of micro-organisms in the underlying concrete.
A floor coating expert can help you find a durable coating formula that meets the federal sanitation standards as set forth by the United States Department of Agriculture. A USDA-compliant floor coating is often an epoxy and/or urethane mixture that prevents spills and condensation from seeping into the floor, and it can stand up to frequent and intense cleaning.
Occasionally the ingredients used in certain food products can actually react with an existing floor coating, causing the binding to fail. If you notice areas of peeling or other failures, contact a flooring specialist to determine the cause. Depending on the exact problem and the location of the trouble spot, he or she may recommend a specialized, chemical-resistant floor coating or, for areas removed from direct food production, even an inexpensive solution such as polished concrete.
Bottling and packaging
The flooring required for an area chiefly involved in packaging may vary depending on your industry, the possibility of leaks or spills, and whether contamination is possible at this stage.
If this part of production relies mostly on automated processes, your facility may only require a simple polished floor (to eliminate dust contamination common with untreated concrete). If the facility frequently has employees moving through the area, you may need an extensive application of anti-slip coating for safety.
Note that facilities that handle processes that can create dust (such as tea leaf blending) should not use polished concrete, as it is not slip-resistant when exposed to fine powders.
Shipping
For warehouse areas, consider floor striping to streamline traffic flow and to communicate important safety information. A simple industrial floor paint may be all that's required, but if you're dealing with large containers or drums, you will want to have a floor that can withstand intense cleaning if something spills (in which case a colored epoxy may be a better choice than paint).
If you have a delivery fleet, you may also want to pay attention to outdoor loading ramps and parking areas to protect them from oil drips and weathering.
Not sure exactly what your facility does and doesn't need? Schedule an appointment with a flooring expert to determine exactly which solutions will work best for your facility. If you're in the Southeastern US, someone from CPC Floor Coatings will be happy to tour your building in person and provide a free estimate tailored to your needs.