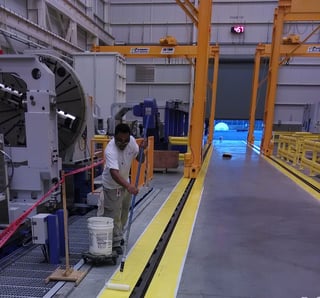 Are you looking to paint the concrete floor at your company's warehouse, manufacturing plant, or retail location?
Whether you're thinking about improving efficiency and organization with a floor striping system, want to feature branding elements, or want large areas of color, the kind of paint or coating you choose can make the difference between success and frustration.
Commercially available paints
The solution that seems simplest is to purchase floor paint from a home improvement store, especially if you're just looking to do a small striping job. However, this kind of paint will almost certainly be unable to handle the kind of foot and mechanical traffic that commercial and industrial floors are exposed to!
You'll end up having to repaint within just a few months, costing you far more in the long run.
We recommend avoiding latex- or water-based paints, as these kinds of paint have much less durability and will likely not be resistant against chemicals, moisture, foot traffic, and so on. Typically an epoxy-based paint is recommended for floors (see below), or a paint with a polyurethane base.
Also be aware that DIY paint jobs, while fine for private homes, can end up looking very unprofessional in a warehouse or plant. So unless you're an experienced painter, you'll save yourself a lot of trouble (and potential embarrassment) by hiring a professional.
Industrial-strength paint
Another option is to work with an industrial painting contractor who can offer a more durable paint type, specifically designed for industrial flooring. This paint may include specialized features such as corrosion resistance or added durability.
If you're planning to paint a large area of the floor, you'll definitely want to get a professional contractor involved, since any small amateur mistake (such as letting the paint dry at the wrong temperature) can mar the final result and result in wasted time and money.
Epoxy coating
An epoxy floor coating is not paint in a strict sense, but a two-part system that chemically bonds for an extra-strong finish. It's available in a wide array of colors as well as unique pattern effects, such as a metallic sheen and with crushed quartz.
Epoxy coatings are impervious to moisture and hold up against abrasions, impacts, foot traffic, and frequent sanitation. (Note: unlike for paints, you can select a water-based epoxy that will have sufficient durability for an industrial floor.)
As mentioned above, you can purchase epoxy-based paints at home improvement stores, but keep in mind these may contain as low as 30% solids by volume, while professional-grade products typically include 90 to 100% for a longer-lasting coat.
To avoid blisters, bubbles, or other bonding failures in the final coating, we recommend you hire an experienced epoxy contractor who will properly prepare your floor and ensure the right application environment.