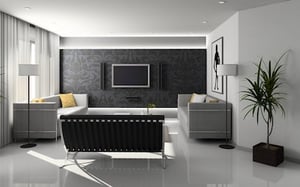 What if you adored your home's concrete floors as much as you do your hardwoods? With a little attention, your concrete floors could look just as good!
The secret to nicer concrete floors is polishing and staining. It's not something many homeowners consider—or even know about—but it's a worthwhile investment for not only aesthetic appeal, but also for longevity.
Keep reading to learn more!
Are you bored with your home's concrete floors?
Although some residential homes have concrete floors in main areas like the living room, dining room, kitchen, or bathroom, most have concrete floors only in the basement or the garage. If your house fits into the latter description, chances are you've never given much thought to them. For one thing, concrete doesn't exactly call attention to itself, and secondly, you just assumed concrete is what it is—cold, flat and gray.
But that doesn't have to be the case. Concrete doesn't have to be boring. In fact, it doesn't even have to look like concrete!
Why polish your home's concrete floors?
There's no doubt that concrete is durable, but coating your concrete floors with a polish increases their durability and ultimately their longevity.
The reason polished concrete floors are more durable than unpolished floors is because the 10-stage process of polishing a concrete floor doubles the floor's hardness by increasing the density of the molecules.
Other added benefits of polishing your concrete floor include:
More shine. A polished concrete floor has a glasslike appearance.
Easy maintenance. The smooth surface of a polished concrete floor is not only easier to clean than unpolished concrete, but it also eliminates that chalky layer of dust that's typical to concrete.
Improved traction. Would you believe that polished concrete floors are less slippery when wet than unpolished floors are? It's true.
Why stain your home's concrete floors?
Unlike polishing, staining your home's concrete floors adds purely aesthetic appeal. The floor's integrity is not actually strengthened in the staining process. If you want more durable floors that also dazzle, consider having them stained after they've been polished.
While polishing a concrete floor adds shine, the advantage of staining a concrete floor is that takes that shine to the next level by adding texture and color! From wave and marble patterns to pastel shades and rich tones, a stained concrete floor gleams with luster.
Who should you call for concrete staining and polishing?
It's important to realize that not every company that stains and polishes concrete floors does the job right. CPC Floor Coating has been in business for more than 45 years, and while we've watched other businesses take shortcuts, we've maintained our reliable methods of proper polishing. As a result, our customers' floors look better and last longer.
If you'd like to talk to one of our floor experts about polishing or staining the concrete floors you have at your home, contact us online or give us a call at 864-934-2435.