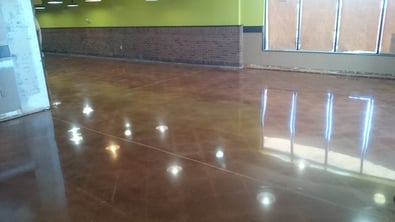 If you're looking to outfit a new commercial space—or upgrade an old one—your choice of flooring will be a major part of your initial expense.
But the initial cost isn't the only thing to consider: if you choose a flooring type that's not durable enough to stand up to customer traffic, repair and replacements will become an operational cost you'll have to factor in every few years.
Carpet, hardwood, vinyl, and tile may be fine for department stores or areas that don't have constant foot traffic. However, these flooring types are all susceptible to high levels of wear and damage in high-traffic areas. If you're expecting a high volume of shoppers (or are directing all traffic along just a few major thoroughfares), you'll probably want something that will stand up better.
If you're looking for the most durable commercial flooring available (and would like to save money at the same time), consider starting with your concrete slab and applying one of these attractive finishes:
Polished Concrete
Method: Like granite or marble, the rough surface of concrete can be ground and polished to a glossy shine. The mechanical process does more than make the floor attractive, however. The grinding process actually strengthens the concrete, increasing the hardness to about a 7 on the Mohs scale.
Advantages: Polished concrete stands up well to foot traffic. It eliminates concrete's natural dust shedding, and it provides a firm grip for customer shoes, even when it's wet.
Color: Polished concrete doesn't have to remain neutral gray. Some concrete contains large pieces of aggregate, which polishing can reveal for a beautiful, natural look. A variety of stains and dyes are also available in a variety of earth- and jewel tones. Stains can even be layered for a bold pattern.
Longevity: Polished concrete typically needs only a minor re-buffing every few years or so.
Learn more about polished concrete.
Epoxy Floor Coating
Method: If you're looking for a watertight floor with an even higher level of durability, consider having an epoxy coating installed. Epoxy is a two-part system made up of a polyepoxide resin and a curative. When combined, the two form a chemical bond that's stronger than the sum of its parts.
Advantages: When installed correctly, an epoxy floor coating is extremely durable and can withstand heavy foot traffic as well as vehicles such as forklifts. It protects against scratches, abrasions, and impact damage (in the case of heavy items being dropped on the flooring surface).
Colors: Epoxy is available in a wide variety of colors and patterns, including solids, color flakes, and shimmering metallics.
Longevity: An epoxy floor coating typically lasts from five years up to a decade when properly installed.
Learn more about epoxy flooring.
Urethane Floor Coating
Method: If you're looking for one of the most durable concrete coatings available, you may want to go for a urethane finish. Urethane may be used on its own or in tandem with another coating (such as epoxy). It can also be applied over steel or hardwood flooring, but offers the most strength when used with concrete.
Advantages: Urethane offers superior resistance to traffic, abrasions, and impacts, and even some chemical corrosion.
Color: Urethane is often clear, revealing the patterns and colors of what's underneath it, but it also offers a limited palate of neutral colors.
Longevity: One of the longest-lasting coatings on the market, urethane can often go a decade or more before needing replacement.
Learn more about urethane flooring.
For more information
Interested in learning more about commercial flooring options? You might be interested in these articles: